October 20th, 2014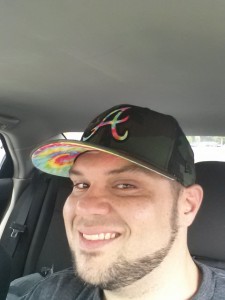 Aloha my fellow 311 fans! How is everybody today? I hope excellent and excitable of course! Another Monday is upon us and that means it's time for the next fan spotlight. Let's get to know Joe Peace!
Back in the 8th grade is around the time that Joe started listening to 311. He remembers the day he first heard the band because it was also the same day he met his best friend Ryan Meyer. The melody of the album Music made him fall in love. Since he first heard them, Joe has been to 20 shows. His favorites are split between 311 Day 2014 and the Friday night show in Atlanta this past summer.
Joe loves all of the music that 311 creates, but some songs that stand out to him and mean a lot are "Don't Dwell," "Starshines," "Random," and "Eons."  When he isn't jamming out to 311 he listens to a variety of other bands. "I love all music as long as it's true."  He said his father got him into hybrid music with his favorite funk/rock band Mothers Finest and that transferred to the hybrid music acts of his generation. Some of those bands are Incubus, Red Hot Chili Peppers, and of course 311. Other musicians Joe loves are Kid Rock, David Allen Coe, Black Label Society, Bob Marley and Snoop Dogg.
Born and raised in a little town called Woodstock, in the state of Georgia, Joe still resides there. He spends his time as a chef and has been cooking for 15 years. "It's one of my passions in life. My other is live concerts. My ultimate goal is life is to open a food truck and travel with 311 and cook."
Joe may be a cook and love the art of culinary creations, but his guilty pleasure is a simple dish – cereal! As he says, "It's my favorite shit on earth lol."  When he is creating food though, he churns out award winning items. He's won awards in Georgia for his wing sauce.
Interesting fact you may not know – Joe had his share of near death experiences when he was younger.  "When I was 8 I was attacked by a dog, ran over by my grandma in her Jeep Cherokee, and fell off the grand canyon, caught by my shirt collar by my brother and still alive. Pretty wild lol."
Mentioned above, the Atlanta Tabernacle Friday night show was one of Joe's favorites of all the shows he's attended. He loved it so much he actually created a tattoo tribute of the two nights on his leg!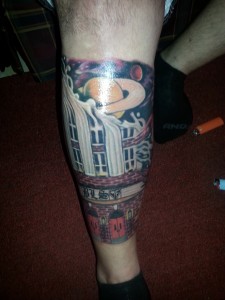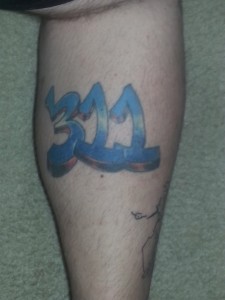 Joe's love for 311 runs deep in his soul so his message to them is a simple, "Thank you."
As for his message to all you excitable readers out there:
"If you ever see me feel free to scream out Joe Peace! I love meeting new people especially at a 311 show."
——–
Nice to meet you Joe Peace! I hope his story entertained you all and remember, if you see him at a show, simply holler out his name!
Until we meet again my friends, keep the positivity flowing! We need it and so do others.
Much Love! – The Runt