October 12th, 2015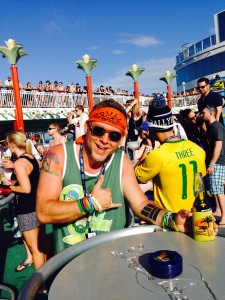 Welcome again my friends to another excitable fan spotlight! This week we introduce you to Kris Trentham!
Junior year of high school, back in 1995, Kris saw his friend had a 311 sticker on the back of his car so he asked who they were. After that they rode around in the car all day listening to Music.  "At that time I was mostly listening to rap and country music. Quite the contradiction, I know. But I remember hearing 'Feels So Good' for the first time and just completely rocking out to it. I was hooked!"
It's been twenty years since Kris became addicted to 311 and he's seen them 24 times over the past two decades. His favorite time so far was the cruise this past March and it was the first one Kris went on. "It definitely tops the list for me. A friend told me it would be life changing. It was! Nothing can prepare you for it. Its something ill remember and reflect back on, for as long as I live."  311 Day Nola came in as a close second for Kris and it isn't even the concert that he loves the best about the time in Nola. "It's the atmosphere and vibe on Bourbon Street and around the Quarter. You just feel the unity! Everyone is hanging out having a good time, jamming out to songs, singing together in the streets and in the bars. Gives me goose bumps just thinking about it."
When asked what song means the most to him, Kris said, "How can you narrow it down to just one song?"  He did manage to pick one – "Sunset in July."  "A few years ago, me and my best friend flew out west and decided to go on our own personal vacation for about two weeks. We started in Phoenix, and then on to Sedona, Vegas, and San Diego. My friend had recently gone through some really difficult times. She had recently lost her father to Cancer and had just recovered from having surgery. She needed a break and she chose me to go on this awesome vacation with. We saw 311 at Sleep Train Amphitheater in San Diego to close out our vacation, before flying back to New Orleans. When they played 'Sunset in July' I completely came unwound. The song title, the lyrics, the moment, it all just hit me at once. Everything we had experienced over the past two weeks, leading up to that moment. Watching her dance and having the time of her life! It was an incredible High for me! Every time I hear that song now, it takes me back to those two weeks we spent together in July of 2013." Favorite quote from a song is, "Silence is golden when you can't think of a good answer."
Kris is a southern boy from Chattanooga, Tennessee. His dad has been a musician his whole life and that is where most of Kris' grassroots come from. "His musical influence definitely rubbed off on me."  Growing up he listened to old country and classic rock, with a little Elvis mixed in. "I've always had a huge appreciation for music and it's always been my constant companion." Some other artists he's into are DMB, Foo Fighters, Stone Temple Pilots, Rage Against the Machine, Tool, Metallica, RHCP, Sublime, Alice n Chains, Dr. Dre, Snoop, 2Pac, Eminem, Jay-Z, Linkin Park, Hank Jr, George Strait, Kenny Chesney, and Elvis.
Kris has lived all over the south including Atlanta, Birmingham, Auburn, New Orleans, and Pensacola. However he spent most of his time growing up in Birmingham, Alabama. "I've lived close to the beach in Pensacola, Florida for the past 8 years now. I'm self employed and work as a Private Investigator. Being self employed is the greatest kind of freedom you can have! It allows me to make my own schedule and take off work whenever I like. Thus funding my 311 habit. ;)"
Being a private investigator has been one of the coolest jobs for Kris. "It's been my career now for almost 20 years. I handle divorce, infidelity, child custody, and missing person investigations. I also handle a lot of insurance defense investigations. So if anyone needs a Private Eye, I'm your guy!"
Kris has always been a great athlete. He played baseball growing up and semi-pro as an adult. "I'll kick your ass at bowling, golf, and most any sport." He's also a lefty (southpaw) which makes him somewhat unique also! And he also mentioned he's super competitive. Guilty pleasure comes in the form of his obsession with college football and the NFL. "Go Vols and Falcons – Rise up!" Most Fall weekends you can find him at the games or on the couch screaming at the T.V. He said he's also a sucker for the movie Top Gun. "I know every word to the movie – Yeehaw Jester's dead!"
To 311, Kris would simply like to say, "Thank you from the bottom of my heart!"
To all the fellow excitables:
"All of you are amazing! Collectively, all of you have been the greatest positive influence in my life! We all have our ups and downs, and sometimes life isn't fair. But if you keep a positive mindset, and try to live your life by PLUR, then you can never go wrong! I urge each and everyone of you to go buy the book, or watch the movie 'The Secret'! Just do it! Believe in it! If you do, you'll soon see be able to have anything you've ever dreamed of! Trust me on this!"
—-
And now you have met Kris! Thanks for reading as always and I hope you enjoyed his story of his love for 311!!
Until next time, keep on being awesome and spreading the positivity!
Much love – The Runt