October 24th, 2016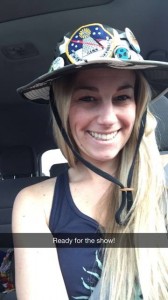 Excitable friends, welcome back to the 311 fan spotlight! Now it's time to meet Hayley Kluge!
First encounter with 311 came in the year 1999 for Hayley when her friend played her the whole Soundsystem album and hooked her in. "Their positive lyrics and funky rhythm mixed with rock and reggae totally attracted me to listening to them more." Then in 2011 when she started snowboarding 311 became her life. "My boyfriend Mike and I listen to them on our drives up to the mountain, as their music gets us pumped up and ready to ride."
While Hayley hasn't kept track of the number of times she has see 311 live, she can tell you her favorite event which was 311 Day 2012 in Las Vegas. That was her one and only big event so far. "We met some amazing people and began to learn about the kindness that comes along with the amazing followers of this band. I remember meeting some really amazing people on day one that saved me a spot up in the front. This meant so much to me because not only had I never been in the front at a 311 show, I also had a full arm cast on from a broken wrist injury 2 weeks prior. I was so bummed about hurting myself before the big weekend. It was so cool to have some rad people make my day under the circumstances."
The song "Slinky" is one of her favorites because it reminds her of all her "awesome slinky sisters." She also has a special place for "Beyond the Grey Sky." "I always get teary eyed as I hold up my lighter up during that song." One of her favorite lyrics though comes from "Grassroots" – "Challenge comes and goes, and there will be another I say bring it on. The roots that grow underground are as big as the tree that you see, if not, it will fall down."
Hayley was born and raised in Manhattan Beach, California. Oldest of three siblings, she has one sister and one brother, and the whole family has always lived by the beach. "We grew up as little ocean babies." Her dad has always surfed so they all had their own boards at a young age. " I love the ocean and the culture that comes along with it." Hayley also loves to snowboard and has been to Mountain High, Mammoth, Big Bear, Snow Summit, and a few different resorts in Lake Tahoe. A California girl all her life, she has big respect for the ocean and mountains. For 11 years she's been working in the banking industry. "My motto is I work to live and listen to 311!" She and her boyfriend have been saving up to go on a 311 cruise and they will be on the next one in 2017, which will be their first so she's super excited.
Something amazing about Hayley is that she is a breast cancer survivor! "It's been a little over 2 years since my surgery and radiation treatments finished. I feel very blessed to have detected my lump early. I vividly remember 311 playing as I got my treatments, those were some tough days but I got through them with the power of their music. Recently I had the wonderful support from some of my amazing 311 Slinky sisters at a cancer walk that my boyfriend Mike and I were part of. We love getting involved and giving back."
Fun fact about Hayley is that she's never been on an airplane ever! So going on the cruise is a big deal for her and she said it's her first "adult trip anywhere and she's totally scared." However she knows it's going to be amazing! She also loves to sing but gets shy singing in front of people. With that said, she'd love to get together with some musically inclined people and just create some fun music. Keep that in mind fellow fans!
Guilty pleasure for Hayley is that she loves binge watching shows on Netflix. "Walking Dead has me hooked!" She also truly loves her doggy Oscar. "I'm not a mommy yet but Oscar is my little baby boy. I love spoiling him and showering him with lots of love." Other music Hayley listens to includes old and some new reggae, Steel Pulse, Sister Nancy, Don Carlos, Slightly Stoopid, The Aggrolites and Ooklah the Moc. "I listen to some old school rap from time to time. Some examples would be the Roots, Pharcyde, Living Legends and Atmosphere."
To 311, her message is this: "Thank you for making great music that has brought so many great people together."
To the other superb 311 fans: "Never miss a day to shine bright. The light that you give out can be contagious in all the right ways!"
——-
There you have the tale of Hayley Kluge my friends! I hope you all enjoyed her journey and thank you all for reading. Now go seize the day, be amazing, and as Hayley said, shine bright. Until next time!
Much love – The Runt