March 3rd, 2014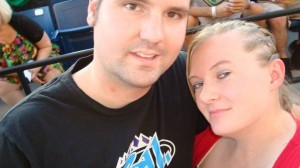 Welcome back 311 nation! Is everyone excitable for 311 Day next week? Of course you are! So lets kickstart this week leading up to it by reading a new 311 fan spotlight! This week we give some love to the 311 Twitter family by featuring Mrs. Andrea Atchison Gabbitas!
Andrea was introduced to 311 thanks to an ex-boyfriend in high school, somewhere around early 2000. She was instantly drawn to the music and the positivity in the lyrics. However, it was her first live experience where she really fell in love with them. She said the whole experience was amazing and the fans were so great! Since then she's never stopped listening and is always looking to befriend more 311 fans!
Andrea met one 311 fan along the way that really stole her heart…she met her husband Seth!  A coworker of hers said to her one day, "Oh you like 311? My two younger brothers love 311."  Andrea went to a party at her coworkers house and met one of the brothers, immediately asking if he was one of the ones that liked 311, which turned out to be Seth. They ended up talking about 311 the whole night that night. Their first date was to a 311 concert in 2009, and they were married on 3/11/2010. Shortly after their marriage, they unfortunately lost Seth's older brother Steve (the other big fan of 311) because he had a hole in his heart. Steve passed away on June 10, 2010 (which Andrea mentioned was coincidentally 311's 20th anniversary). She said that it was a really tough loss, especially since it was Steve who really got Seth into 311, which inevitably led him to meeting Andrea and falling in love with her.
Since falling in love with 311 Andrea has been to a total of 16 shows, including 311 Day 2012. She was six months pregnant with her son at the time, so while she couldn't party like some of us could, she said it still was one of the most perfect and breathtaking experiences of her life! "I loved being in Vegas, seeing all the 311 shirts and meeting so many amazing people. It was amazing having an entire city swimming in the positivity of all the fans. We met some really great people there and had a really fun weekend."
One of the songs that was played at that 311 Day was "Taiyed" which is Andrea's all time favorite song. "I love the lyric 'out from a love that will keep on burning.'  We named our son Taiyden because of that lyric." She even said that when the song was played her son was rocking out in the womb, kicking the whole time!
Andrea & Seth's son Taiyden was born on June 5, 2012, which as many of you know is the one & only P-nut's birthday! She said she swears she doesn't plan these things!  Her son absolutely LOVES music and is a little mini-excitable, loving 311 just like mom and dad! Andrea said he unfortunately also likes some music that drives her nuts (she mentioned Low by Flo Rida). However, she admits he is just so cute that she can't refuse him music he loves!
Andrea and her husband went through a tough period back in October of last year because of a miscarriage, but the love of her family and the music of 311 helped get them through this trying time. In order to have some closure, they decided to name the baby Greyson Skyler because as she said, "He was our moment of bliss" just like some of her favorite lyrics from "Beyond the Grey Sky", "It is a gift I know, this moment of bliss that we hold. A firecracker flash of light then on to the next plane, soul remain."
Andrea was born in Boulder, Colorado and raised in Farmington, Utah, where she still resides currently. "My husband and I bought a house in Farmington 3 years ago, so I really haven't gone far!" She is the proud aunt of a brand new niece! (She told me she answered her questions with one hand while holding her!)  Andrea said she is a pretty open book, very honest and not afraid to share what is on her mind. One thing she said she constantly wishes though is that teleportation were real. "I'd love to be able to go anywhere in just a few minutes!" Andrea I think we all wish that were real, at least I know that I do!
While Andrea doesn't follow anyone as closely as 311, she does have an admiration for other bands such as Muse, Panic! At the Disco, Dirty Heads, Sublime, A Perfect Circle, Nine Inch Nails, Alien Ant Farm, VAST and of course, Nick Hexum Quintet!
So there you have it, our latest star Andrea! She has a lot to be thankful for because of 311, and she would love to tell them simply, "Thank you. I owe a lot of who I am to you."  If you get the chance to meet Andrea at some point, say hello, because she loves meeting all of you! I leave you with her personal message:
"I love you all!!! I love all the support and love I've gotten from everyone.  I can't wait for more opportunities to meet more of you!"
—–
That's all for now folks! Until next week, "Stay positive and love your life!" – The Runt