February 1st, 2016
Hello again excitable friends! Here we are, another week which means the next fan spotlight. It's time to meet Scott Fairbanks!
Middle school was the era that Scott was introduced to 311, which happened when the blue album was gaining popularity. "That was one of the first CD's I ever bought with money I actually earned."  One of Scott's best friends was the influence for him liking the band. His friend would have them playing on the stereo over the years that they hung out. "I have always been a music lover, player, and admirer, so I appreciated their music right away.  When I really became a big fan was once I started going to shows with my friends and meeting all the other excitables at the different venues; some of the best people I've ever met."
Over 25 shows is the estimate that Scott gave for how many times he's seen 311 live, and those included cruises 1, 3, and 4. He also attended the couple of Vegas 311 Day events, and New Orleans in 2014. He'll be at this year's celebration as well! Favorite event though is hands down Pow Wow. He and his New Englander friends drove an RV from Boston to Florida for the festival. "Not only was it a great road trip with some good friends, I ended up meeting a girl there; that girl is now my wife.  She's still in my phone as Gayle Pow Wow, because we were living in different states at the time.  I will never forget riding in that RV all the way back to Boston while texting back and forth with this new 311 slinky.  We hit it off, she visited a few times, and we went with the "You never win if you don't go all in" attitude and she moved to Boston to live with me and try it.  Since then, we had a Key West Beach wedding with some 311 string quartet music playing while she walked down the aisle." What a great story!!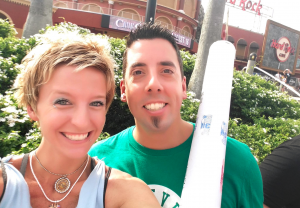 Scott's two favorite songs are "Sun Come Through" and "Golden Sunlight," but he can't choose which one he likes more. "The strong lyrics and musical ability shine in both of these songs to me."  Favorite lyric comes from "Too Much Too Fast" – "You never win if you don't go all in."  It reminds him that you need to really commit to something in order to get what you want. "I love all of the positive messages that 311 brings."
Scott is a native New Englander, growing up in the coastal town of Marshfield, Massachusetts. He graduated high school in 2000. Every summer he would see 311 live when they would play at the venue in Mansfield MA, he said it was THE event of the summer for him. "Then it turned into any New England show… then maybe Mohegan Sun… then Vegas… then let's drive to Florida… maybe take some cruises." Scott currently lives in Tampa, Florida, so now he see's the shows in West Palm, Boca, and sometimes Nola. He funds his 311 addiction by working as a Business Intelligence Consultant. "So I'm usually able to put on my headphones and crank out some work listening to music."
Something very cool that happened to Scott in the seventh grade is that he won a trip to Hawaii to see the Gatorade Ironman Triathlon. "My whole family got to go and we hung out with the racers before, during, and after the race." Guilty pleasure for Scott comes in the form of a certain cartoon. "Sometimes, after the wife goes to bed, I watch old episodes of the Simpsons even though I kind of remember the jokes."
Scott has always had a love for music, and believes his musical ability and appreciation for it set him apart. He played saxophone growing up and was in the concert, marching and jazz bands during high school. He has since then taught himself guitar and is trying to now learn the piano.  "Playing music with other people is one of the most fun, satisfying, stress releasing, soul refreshing activities on the planet." Types of music he likes range from alt rock and blues, to jam style music. Other bands he's been into lately include Rebelution, old Sublime, Kings of Leon, Black Keys, Nick Hexum Quintet, and Full Service.
Scott's message to 311 is simple and perfectly worded: "Thanks for providing a musically delivered positive attitude that literally changed my life."
Now to all you amazing people in 311 nation:
"See you in New Orleans! Looking forward to 311 Day high fives!"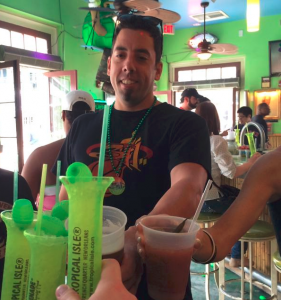 ———
There you have the story of Scott Fairbanks! An enjoyable one if I do say so myself. Thanks Scott for being a fan and thank the rest of you for reading his tale & meeting yet another amazing fellow excitable. Now go kick some positive energy out to the world!
Much love – The Runt