December 15th, 2014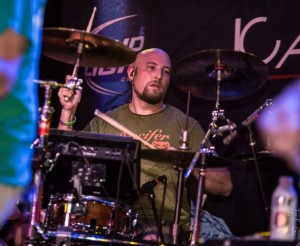 Another week and another fan spotlight is upon us my excitable friends! I hope you all have your shopping done and can take the time to read this awesome new spotlight! It's time to meet Mr. Dan Voehse!
Dan's introduction to 311 came when many fans did – right as the Blue album came out and "Down" was getting a ton of airplay on the radio stations. "The video was getting played on MTV, back when you know, they still played videos, so it was kinda tough not to get into that song. I really liked 'All Mixed Up' when I first heard it.  It had, for me at the time, a really different sound to it, plus something about the funk/jazz aspects really got me."  It was a few years later that Dan really ended up hooked on the band. He met some "super fans" through a girl he was dating and it was with them that he went to his first show back in 2000. Driving to the show they put on the "Music" album, and it sucked him in to the awesomeness of 311.  "Every song just got better and better and that was for sure the album that mad me say ok, it's time to seriously go back and listen to this shit!" While his first show was a short radio station one, it got him listening to "Music" and watching ETSD 1. He also was getting first hand accounts from his friends of the 2000 311 Day, and in Dan's words, "It just validated that I was missing out on something that I didn't want to miss out on any longer."
Recently Dan did a count of how many shows he's attended. "I've been to 41 shows, including every 311 Day since '02, all the cruises, and Pow Wow."  The best show of those 41? "Cruise 1 sail away show, hands down. I have special memories and feelings from every event/show, but that one was the best. The whole cruise in general was amazing. Best trip ever. Through that trip I met so many amazing people a lot of whom have become really good friends.  At the time, we didn't know if there was ever going to be another cruise so it felt like a once in lifetime trip for me anyway. That coupled with the fact that I'd never been on a cruise before and standing on the deck of that ship, leaving the port, feeling that pre-show buzz go through the crowd, getting ready to watch my favorite band?!? It was surreal.  Plus, when they opened with 'Down' everybody knew we were in for one hell of show!"
There are many songs that have a special meaning to Dan, but "Strong All Along" has been a stand out one to him. "It can always bring me out of a funk if I'm ever in one, plus it's just an awesome track to jam driving around when the weather's mild!"  Some of his favorite lyrics from the band come from the song as well. "Let your body go, just don't follow the letter. Do what you feel, the more absurd the better."  He also loves, "Can't get enough, this is the stuff, life's about and it trips me out" and "To all my friends, it's not the end, the earth has not swallowed me yet."
Venezuela is where Dan was born and he lived there until he was 3. Then shortly after his brother was born, the family moved to Germany where they are originally from. Dan's extended family still lives there. He was in Germany until he was 7, then his dad took a job with his company in the states, which is how Dan ended up here. "We spent  a few years in New Jersey, but eventually settled just outside of Houston for the majority of my middle school years. Freshman year of high school we moved again to Plano, and I still call it home."  To fund his 311 habit, Dan works for a family business that distributes a specialized mineral/plastic compound. There he runs the day to day operations.
Since his family hails from Germany, Dan can still speak fluent German! He's also been playing music pretty much his whole life. "I started taking piano lessons in Germany at 5 years old and played all the way through 6th grade when I discovered the drums. I've been playing the drums now for close to 25 years now and can't imagine ever putting down my sticks.  I'm playing in a band again with some great dudes and things are going really well for us here in Dallas.  We even got a plaque on the wall at Curtain Club (kind of like a local wall of fame) which is something that I've wanted since I was 16 and first saw the plaques on the wall.  Hope some readers go check us out! www.generationwasted.net."  When not working or playing music, Dan can be found watching his guilty pleasure, "The Voice."  "I've basically watched it since season one, but it's the only talent competition show that I've ever liked. At the beginning more than now anyways, it felt like it had more integrity than Idol. I've always hated Idol lol."
Since Dan has been into music from a young age, he loves a ton of different bands. "I'm a huge Tool fan and Maynard's new project Puscifier. Puscifier is way different but I love it."  He also really likes Chevelle and Volbeat for heavier stuff. He also really got into Rebelution as well as Bad Rabbits the past few years. Dan also loves 90's alternative. "I'm a 90's alternative kid so I love all of that stuff like Sublime, Stone Temple Pilots, Nirvana, Pearl Jam, Soundgarden, Rage, etc."
Given the opportunity to speak to the members of 311, Dan would like to say, "Thank you for making the kind of music that brings together the most amazing people I've ever met."
To the awesome members of the 311 fan base:
"See everybody in Miami!!!!  I'm sooooo looking forward to the next cruise and throwing down at another massive pre-party for all my friends!!!  The show we played in NOLA was one of the best I've ever been a part of and this next one in Miami is going to be even better. "
———–
Now you've met yet another member of the Unity All-Stars! If you are headed to Miami or are cruising, make sure you check out their cruise anthem and see them live not only at a pre-party, but as they record the video for the cruise anthem on the boat! Check out these links for more:
https://www.facebook.com/events/393071107517325/
That's all for now my awesome, positive friends!! I thank you all for reading, and hope you have an amazing week! Until we meet again. Happy Chanukah to all those who celebrate it!
Much love – The Runt