April 21st, 2014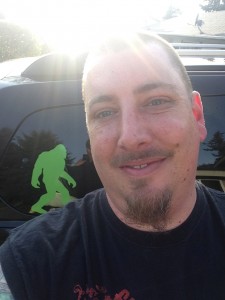 Ladies and gentlemen of 311 nation, I welcome you back for another week of fun and delight as we meet a new excitable. Did you go on the third cruise? Did you play a treasure hunt game and find the Sasquatch at sea? If you did, then you know that this weeks 311 fan spotlight is on the one & only Matt "Sasquatch" Taylor!
Matt got into 311 twenty years ago, back in 1994 when a friend introduced him to the album Grassroots. What Matt loved most about them was how different they sounded than everything else playing at the time. He then attended his first live show in 96, and while he never kept count, he believes he has attended anywhere from 25-35 shows. Included in this count are all three cruises. "I've never made a 311 day, but I have been lucky enough to have been on all three cruises." Of all the shows Matt has been to he said the first cruise takes the cake. "It was such a life changing experience. So many great times and wonderful people.
Matt is a happily married man with two kids, currently living in Washington. He says that his wife Mari and his two daughters Pepper and Colbie are his world  He was born and raised in the San Francisco bay area, an only child and only grandchild. Despite being an only kid he was taught the valuable lesson that hard work pays off. He was stacking wood at the age of 6 and started working on cars at the age of 12. Matt has been working on cars professionally for 21 years and manages a mom and pop Goodyear store, where he has been for the past 14 years. He says he still enjoys it too! Matt mentioned that ever since the first cruise ended he & Mari have been saving nonstop for each consecutive cruise, taking a year to make it happen but that it's been worth it every time.
So what's up with his nickname being Sasquatch? Well, Matt loves tattoos – he said it's one of his guilty pleasures. And the man has a giant tattoo of a Sasquatch on him. Here, take a look: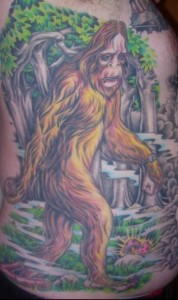 "On the first cruise lots of people stopped and told me how much they liked it. On the second cruise, people actually started shouting at me "Hey Sasquatch!" as I walked the boat. Before the third cruise my lovely wife decided to turn me into a treasure hunt/hide & seek type game. We plastered the boat with find the Sasquatch flyers and handed out special bracelets saying "I saw Sasquatch at sea" we took pictures with everybody who got a bracelet, gave out almost 600! Thus my moniker was cemented." Matt said it was a blast doing it and they did it again at the Full Service Circus a few months later. He says thanks to all the fans & Familia for helping make him unique!
Something else that makes Matt stand out are his pinky fingers. Yes, you read correctly. His pinky fingers actually bend in an odd way. It's a hereditary trait where they both bend making them look broken. Both of his girls have them too and the love it. "I told them that's how they know I'm theirs and that they're special."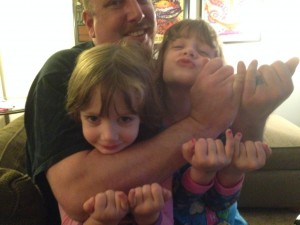 I mentioned before that Matt loves tattoos and he is about 70-80% covered at this point. He plans on having a full body suit at some point, but right now he is waiting to get his sleeves done out of respect for his Grandmother because she doesn't like tattoos. "Lots of people trip on me the first time they see them because I have almost no visible tattoos with pants and a T-shirt on."
One of Matt's favorite songs is "Crack the Code" because it reminds him of his wife. For a brief time they had taken a break from their relationship and it was during the time that Evolver  came out. After they reconciled, they both had listened to that song and it helped them realize that they should get back together. "We had cracked each others code."
I asked Matt to give me some favorite quotes from 311 songs and he replied, "Theres always a quote when you need one! So many different songs have just the right lyric for what you need, when you need it that it's impossible to pick just one."  That said, he did mention that "Lovely life, I thank you for the reason to see the pain through."  He stated that it reminds him that even at it's toughest, beauty can still be seen and felt everywhere in life.
When Matt isn't listening to 311, he cranks up some Hendrix, Pink Floyd, The Beatles, The Mighty Mighty Bosstones (a band from my hometown! Nice pick.), Rebelution, and Passafire. "When I was younger it was all thrash, hard rock and heavy metal. Now that I'm older it's mostly reggae and similar styles. Just makes me happy!"
Matt would love to say to 311 that, "It has been a joy growing and evolving with you. Keep it up for another 20 years!" I think we all agree with Matt on that note. That my friends is the man they call Sasquatch. So if you see him on cruise #4, keep an eye out for that tattoo and give him a high five when you find him! His final words to all of you are sweet, simple and to the point. They are words we all know and live by. In the words of 311 – "Stay positive and love your life!"
—–
Thanks for reading all about Matt Taylor everyone! Until next time, and in honor of this years Record Store Day, go spin some vinyl somewhere! Trust me, you'll thank me for it!

Much love!
-The Runt