April 14th, 2014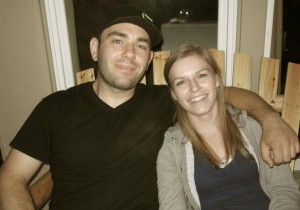 Welcome back 311 nation! I hope you are all coming off an amazing weekend and ready to conquer another week! Get it started right by meeting our newest fan spotlight – Marion Novicky!
Marion first discovered the wonderfulness of 311 back in 2003 when she went to the Rolling Rock Town Fair in Pittsburgh, PA.  She saw a ton of bands that day and as she said, "They all sucked and then 311 came on and I was blown away."  She went home, bought all the music that she could find, and has been listening to them ever since. "What I loved most was how different their music was from everything else that I was listening to at the time."
Since then Marion has seen the band somewhere around twenty times. She isn't sure of the exact number but she tries to see them at least once a year, although it's usually multiple times. Her favorite event she said is hard to choose because they are all such a blast. If forced to choose, it would be the 2013 cruise, which is the first one she went on.   "I just loved how there was live music playing from every corner of the ship, pretty much 24/7. It was so much fun to go to the name that tune event and have Nick hang out and just jam out." She also said everyone was just so friendly and having so much fun that you couldn't help but have a great time too. She also was lucky enough to hit 311 Day this year in Nola and she got meet a ton of other fans which meant a lot to her!
Marion grew up in a Cleveland, OH suburb where she still currently dwells. She still lives at home with her mother, and even though this doesn't make her happy, she realizes how fortunate she is for this opportunity. It allows her to save a ton of money and go where she wants, when she wants. "It allows me to follow 311 around or go to California to visit my brother and sister-in-law."  Marion has one brother who is a year and half older than her and he lives in Orange County, CA. (He is in the photo above with her, which she said is her favorite picture!)
Not only does Marion love 311, she loves music in general and doesn't limit herself to a set type that she'll listen to. "I'll listen to whatever I think sounds good. I don't have any other artists or bands that I love as much as 311. If you look at my playlist, my top 25 songs played are 311. 90% of the time they are who I'm listening to."
I asked Marion to tell me something that makes her unique, and she responded saying, "I know you say there has to be something but here honestly isn't haha. I am the most boring and generic person you'd ever meet." (I sincerely doubt this!)  She does like to read and run. Something you may not know about her though is that she is a vegan. She also said her guilty pleasure is that she "may or may not" watch The Vampire Diaries. (No shame there Marion! I watch it too!  He he.)
Marion is like many of us in 311 nation who have multiple songs that mean the world to them. When asked what song means the most to her, she replied, "I can't pick just one song, they all mean a lot to me for different reasons."  Marion's answers show the lessons that 311 music has taught her. "From Chaos reminds me that people's actions can only bother me if I let them.  Trouble reminds me that I can be my own worst enemy sometimes and life is too short to hold things in, that I need to just let them go.  Beyond the Gray Sky reminds me of some rough times I went through and how I got through them because of my family and friends."
Some lyrics that Marion mentioned stand out to her are, "No matter what you do I don't react, I'm a perfect example of not giving a fuck about the catty rude people that just suck." She also loves words from the song "Get Down" – "Think I'm despised when I look through the eyes of another, not mine to discover, what the next man think is none of my fucking business."
I asked what one thing Marion would like to say to the band and she came back with, "This kills me because I've met Nick a few times and I always want to tell him how much the band means to me but I clam up like a nerd." So Nick if you are reading, here is her response:
"I would thank them because they've taught me to not care what people think about me and to live with a positive attitude.  Nick has said he's positive to a fault, well I'm negative to a fault and their music reminds me to not think that way and just enjoy life and live it to the fullest and every time a negative thought comes across my mind I just turn on their music and it fades away.  I will be forever grateful for what they've taught me about the power of having a positive attitude."
That my friends is Ms. Marion Novicky! I hope you enjoyed learning more about her and that one day you all get to meet her in person! The fact that she mentioned all the things 311 has taught her with their music and lyrics shows just how powerful their words affect all of us excitables. Here are Marion's words to all of you in 311 nation:
"Thanks for all the love!  You're all so kind and even if I've never met you or I've just met you, you always treat me like we've known each other for years.  It means a lot.  311 fans are the greatest."
—–
That's it for this weeks edition of the fan spotlight! I hope it brightened up your Monday a bit! Until next week, "Oh living is a journey, waking, believing, running."
-The Runt