May 23rd, 2016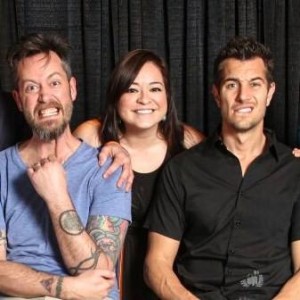 Another week is upon us and that means another fan spotlight has arrived! This week we meet the fabulous Vanessa Velasquez!
Vanessa's 311 journey begins in the 7th grade. She and her brother were on the bus home from school and she had forgotten her earphones in her locker and her brother was kind enough to share his with her. "At the time, he had just gotten a burned CD called the "Stoner Mix" that a girl he liked gave to him for Valentines day. Omaha Stylee and Beautiful Disaster were the two songs that caught my attention and made me want to listen and learn more."
First live show fell on July 20, 2008 which was the summer right after Vanessa graduated high school.  "I used some of my graduation money to buy my best friend and I a ticket." Since then she's seen 43 shows which include four 311 Day's from 2010 to 2016, and four cruises. Of those shows, Vanessa said there are four events that hold a special place in her heart. "Pow Wow because they played Transistor (one of my favorite albums) and because I got to kiss my crush for the first time after briefly meeting him on the 1st cruise and keeping in touch after that. Cruise #2 because I got to see 311 play on the beach. OUR VERSION OF PARADISE, 311 Day 2014 and 311 Day 2016 because it was in NOLA and I love that city, even though it's dirty."
Favorite song is a little difficult for Vanessa because she said there's just too many too list and there are many that make her tear up when she see's the played live. "One song I do always listen to when I'm feeling down is Strong All Along. Never fails to put a smile on my face. Also Use of Time- with the Unity Orchestra version. Nick sounds like a god and I just love it." Favorite quote from a song is, "Stay positive with love, just see the good in everybody."
Vanessa was born in Garden City, Kansas and grew up on a farm with her grandparents in a strict Catholic home. Her mother was just a mere 16 when she had her, and both her parents were always working to support the family. It was mostly weekends that she got to spend time with them but that changed later once they got themselves on their feet financially. "I was the kinda kid that would wake up early and help out with the animals, one of my favorite things was milking the cows and helping my grandma make cheese!" In 2004 her family moved to Northern Virginia, where she said she discovered what a mall was! Now she lives in Georgia and waits tables at Mellow Mushroom to fund her 311 habit.
Vanessa credits her brother solely for getting her into 311. It was her twin brother who unfortunately passed away who had her listen to them for the first time and he always wanted to see them live. "My brother passed away in 2003 in a car accident with my uncle. He introduced me to 311 and his dream was to see 311 live one day. Now I'm living that dream for him."
Vanessa's talent she says really isn't a talent. "I would like to consider myself somewhat of an old fashioned Suzy homemaker. I think my grandma and mother for teaching me everything I know, from making tortillas by hand to cooking or just being good at cleaning and keeping my home organized. No shame in being a little domesticated, right?"
Nessa said that her music taste is weird when not listening to 311. "Besides 311 I like dancing music we call CUMBIA in Spanish. I also enjoy jam band, reggae music, and R&B pop from the 2000's. Seriously it's all over the place."
Guilty pleasure comes via the T.V. show "Desperate Housewives." "I love Eva Longoria and Marcia Cross in that show." Another one is the second and third album from the band Good Charlotte. "I love the Madden brothers!" Vanessa also mentioned that she loves camping, kayaking, learning about craft beer, and CATS!!

To the band her message is this:
"Thank you for all the smiles and happy tears you guys have put on my face, life would be boring without 311."
To all the other fans of the band:
"To all the brodels and Slinkies I have met in my journey as a 311 excitable and to those I have yet to cross paths with. THANK YOU for making these life experiences much more fun by being a part of it. "If you don't have someone to do it with, it's not worth doin'"  You guys are much more than just people I see at a show/ event. you are family. Peace, love, UNITY! and respect <3"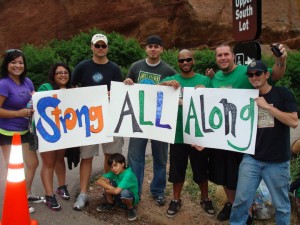 ——
And there you have Vanessa's story! I hope you loved it and that you all get to meet this amazing soul in person one day. Until next time, go be awesome, amazing, and keep spreading the positivity!
Much love – The Runt