July 21st, 2014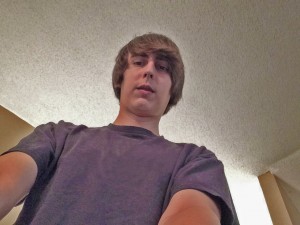 Here we are again my excitable friends in 311 land! Another week has begun and this can mean only one thing…it's time for the new fan spotlight! Let's not delay and read on about Mr. Roland Dewitt!
Back in 95/96, when Roland was just 11 years old, his friend Hiram hosted a party and was playing "Down" on repeat pretty much the whole time. Since then, Roland has been blasting the 311 pretty much every day. "I was drawn to their music because I can relate very much to it.  311 is an intelligent band, with awesome music.  This is a mix that is hard to come by.  Being somewhat of a nerd, I was drawn to their more intelligent lyrics and the perfection of their live show.  Once I saw them live, I was 100% hooked."
Roland's show tally is at 30 currently, but he'll add shows 31 and 32 to that in just a few days when he sees the band in Atlanta at the Tabernacle. He said it was really hard to narrow down the answer to his favorite show so far. If he had to choose though he would pick the show from 3/18/2002 since it was the last time he was at the Tabernacle.
Like most fans, Roland has many songs and lyrics that really mean a great deal to him. He said he really can't just pick one song that means the most to him, but he does love "Beyond the Grey Sky," "Sometimes Jacks Rule the Realm," and basically all of the Transistor album. As far as lyrics, he posts some of his favorites on Facebook pretty much every day. Those include "Do what thy will should be the whole of the law" and "Nothing in life is above being honest."
Roland was born and raised in Auburn, Alabama, but he says, "No, I don't have a southern accent."  This is due to his father being from Michigan and his mother, while from Northern Alabama, lacks an accent. He said his parents are very well educated and even though they didn't have a ton of money they got by. Roland has both a younger and older brother and he has only lived in Auburn. Working since he was 14 has helped fund his 311 addiction. He now works for Auburn University so the likelihood of him ever living anywhere else he says is slim. "The only bad part about Auburn is that about ½ of the population are students.  This is fine with me, but that results in friends who leave every 4-5 years.  Most students leave Auburn, so I have few friends left in Auburn.  Also, the students are getting younger and younger (ha), and I am getting older and older.  It is a unique environment."
Something Roland says most people don't know about him is that he was fired from his first job at the age of 14 because he was "too young" (which is interesting because they hired him and clearly knew his age at the time!).  He also has a pretty unique talent – he can ride a unicycle, juggle, and do both at the same time! Although he said he's a bit out of practice with it. Guilty pleasure? He has just one, "Marijuana, and lots of it." Other music that Roland listens to includes techno (not dub-step), some rap, The Beatles, and basically anything from the 90's. He also really likes the band Incubus, but he was upset when Dirk left in 2002. He hasn't seen them live since then.
Roland had the opportunity to meet the guys back in 2006 and wants to share his story of that with you all. "Back in 2005 there was an altercation with 311 and Scott Stapp.  I believe Stapp was being a dick and 311 had to protect themselves, essentially beating Stapp up in self-defense. I told my girlfriend at the time that I wanted to shake Chad and SA's hands for doing what was necessary.  (I don't agree with violence, but if someone punched my wife, or even myself, I would react with appropriate force.) On 3/9/2006, I thanked the band for standing up for themselves and more importantly, beating up Scott Stapp.  I find it funny that I was actually able to thank the band for this act of necessary violence.  Here is the article that can shed more light on the incident: http://www.mtv.com/news/1517207/out-of-control-scott-stapp-incites-melee-with-311-at-baltimore-hotel/."
Roland's message to all the awesome people out in the 311 universe is:
"Keep coming to the shows!  I see a lot of people at shows who have been going since I was 13/14 years old.  We run into each other at 311 shows and are like "Hey, you are that guy" and I'm like "Hey, you are that guy."  Recently, at 311 day 2014, people from the Familia came up to me and asked if I was Roland DeWitt.  I believe 7 people did that, whom I have only met online.  It was awesome, as I didn't think anyone would recognize me.  I was quite flattered.  Also, once in Halloween 2010, a clown came up to me and asked "Are you Roland DeWitt?" I was a bit taken aback, but it turned out to be Brad Downen (a 311 taper and huge fan) who recognized me.  Thanks, Brad for wearing full-body clown makeup and freaking me out.  It was surreal."
——
Another 311 fan spotlight is in the books my friends! Thank you all for reading about Roland and I hope you have an excellent week! Show some love & leave a comment if you feel inclined! It'll make my day seeing your words in the comments as I filter through the spam!
Much love my friends! – The Runt