December 5th, 2016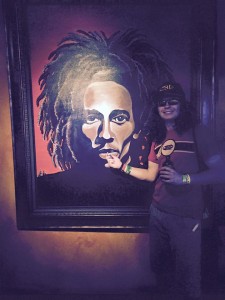 Welcome again, all of you amazing fans of 311! Fan spotlight time has arrived and this week we take aim at Mr. Eddie Bratke! 
Eddie's best friend growing up had some family in Omaha and when he was about 10 years old, he remembers his friend and his friends family bumping the blue album. Eddie fell in love with it instantly! "Me and my friend listened to that CD forever. What drew me in was the unique style, I had just never heard anything like it." Then in 2005 when he finally saw 311 live in Salt Lake City, his obsession began. 
49 shows is the number Eddie is at today which include four 311 Day events and one cruise. The show at the House of Blues in Orlando next February will be the big 5-0. While he said that the SLC two night show was epic, nothing beats the cruise for him. "I literally get sick thinking that I missed out on so many of them, but no more will be skipped!"
Song that means the most to Eddie has changed a few times of the past few years. "I have seen some good people in my life pass away, so right now its Tranquility.  I find it to be almost therapeutic to listen to now." Favorite lyrics are, "Gotta be a better reason to colonize a star, Gotta be a better reason man has come so far." Eddie said that lyric has always given him goosebumps. "It just sums up how much better we can make the world than it currently is, and there is more to life than pay bills and die."
Born in San Diego, Eddie grew up just north of Salt Lake City in Farmington. He went to school in Colorado for two years and loved it, but his home will always be in Utah. He currently works for a company called Salt City Sales where they sell private label work gloves. "If you need to buy gloves, hit me up (it will help my 311 habit)." Current age is 28 and he is still on his search to find his special slinky girl! 
Something people may not know is that Eddie became branch manager for Wells Fargo at the age of 22 and the impact made him realize that he never wanted to work in a corporate environment again. Unique quality for Eddie is his hair! "I have a lot of hair." Guilty pleasure comes in the form daily fantasy cash games (NFL, NBA, and Golf). He also loves to golf! 
When not listening to 311, Eddie can be found jamming out to Dirty Heads, Blink 182, Rage Against the Machine, RDGLDGRN, and lately Tropadelic. 
To 311, Eddie would like to say, "Thank you for changing my life and giving me the best memories, and making me visit the world to see ya'll!"
For the other fans of this amazing band:
"To the coolest people in the world, much love! If you see me at a show or on the cruise say hi, I love meeting excitables!"
———
There you have the tale of how Eddie Bratke fell in love with 311! Thanks for being a part of this Eddie, and of course thank you to all the fans who read each story week after week. 
Much love to you all!
The Runt